Commercial Vehicle Center in New Orleans, LA

Commercial Models at Premier Chrysler Dodge Jeep RAM FIAT of New Orleans
If you're in need of a commercial vehicle for your business, you can count on Premier Chrysler Dodge Jeep RAM FIAT of New Orleans to help you find what you are looking for. We carry a large selection of commercial models, including trucks and vans, to fit companies in just about any industry. With the ability to upfit, you can make any vehicle your business partner.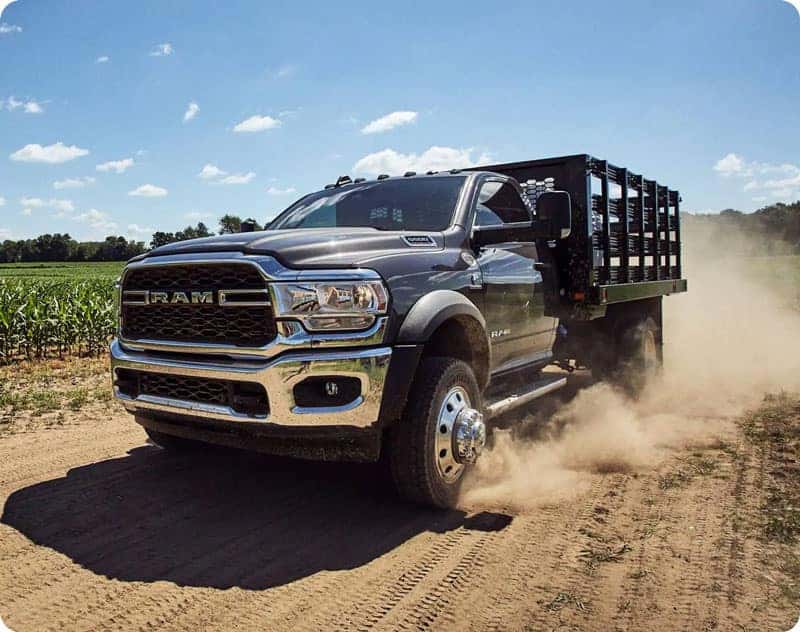 RAM Pickup Trucks
With pickup trucks like the RAM 1500 and 1500 Classic, you have the perfect partner to get the job done. These trucks can handle the most rugged terrain, going off-road to a remote jobsite. They can tow and haul heavy equipment and materials to reduce the number of trips you need to make. Don't be afraid to travel anywhere in one of our models. For more heavy-duty work, you can easily upgrade to the 2500 and 3500. They are built to be stronger and tougher with no turning back when the job gets harder.
RAM Cargo Vans
We carry a selection of vans when your job requires a different type of commercial vehicle. These vans can be upfitted to carry cargo, transport passengers, or use as a workstation. Add storage options to have everything you need along with you at every stop. Our vans can do double-duty as they carry supplies and tow a trailer for more equipment. Advanced technology keeps you online and connected as you order specialty parts or contact vendors on the go.
Now is the Time to Purchase a RAM Commercial Vehicle
If you're thinking about buying a commercial model, now is the time to make that decision. Section 179 of the US IRS code allows businesses to take an expense deduction immediately for purchase of a commercial vehicle. This allows you to take the entire deduction at once instead of calculating depreciation over a period of time. This deduction provides major tax relief for new businesses just starting out that need to purchase equipment to get started or to grow their business. Talk to your accountant to learn more about the terms and how it can benefit your company.
---
Premier Chrysler Dodge Jeep RAM FIAT of New Orleans Commercial Models
RAM 1500
Multiple engines, cab, and box options make the RAM 1500 an ideal choice for business owners. This pickup is easy to personalize to your unique needs. Enjoy a maximum towing capacity of up to 12,750 pounds with a V8 engine while the RamBox Cargo Management system ensures you have everything you need.
RAM 1500 Classic
Tow up to 10,610 pounds with the 5.7L HEMI V8 engine for the RAM 1500 Classic. This model offers timeless styling that never loses its appeal while offering advanced technology for performance, safety, and convenience.
RAM 2500 and 3500
For the tougher jobs, you want the best and strongest. The RAM 2500 and 3500 offers more power, more versatility, and outstanding capability. For the 2500, you have a 6.7L Cummins turbo diesel I6 with 370 horsepower and 850 lb.-ft of torque. Upgrade to the 6.4L HEMI V8 with 410 horsepower and 429 lb.-ft of torque. Built to impress, the RAM 3500 offers Best-in-Class diesel torque and towing with the 6.7L High-Output Cummins Turbo Diesel I6 at 1075 lb.-ft of torque and 37,100 pounds of maximum towing.
RAM Chassis Cab
Tops for versatility, the RAM Chassis Cab offers numerous upfit options and is ideal for many industries. With a steel rear frame strength of 50,000 psi, this model is strong enough to handle almost any challenge. With a dual alternator output of 440 amps, it can also power many tools and equipment at the most remote locations.
RAM ProMaster
Create a mobile workstation with the RAM ProMaster. With Best-in-Class cargo height and width, you have more room to fit everything inside. Almost vertical walls allow you to stand up and do your job. Add storage bins, racks, shelving and more to upfit this model for your business.
RAM ProMaster City
This slightly smaller van is perfect for cargo or passengers as you travel through busy city streets and battle heavy traffic congestion. You can't do better than the best as this model proves itself with Best-in-Class Cargo Capacity and Best-in-Class Horsepower.
To find out more about any of these commercial vehicles, contact Premier Chrysler Dodge Jeep RAM FIAT of New Orleans today.